Introducción
Anti-theft laptop backpacks with USB charging port capabilities combine portable power and intelligent security in feature-packed designs perfect for safely transporting tech on daily commutes and trips. This article will explore the key capabilities and advantages of these innovative backpacks without delving into specific technical specifications.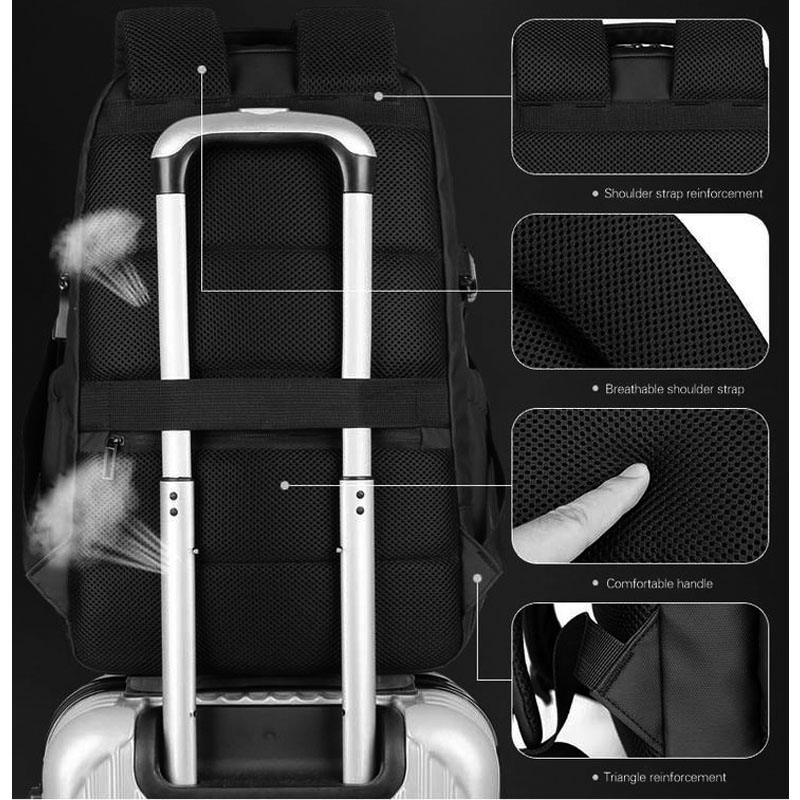 Características
Multilayered Anti-Theft Protection
Advanced anti-theft backpacks utilize discreet, non-threatening features that thwart theft and slash attempts in crowded spaces. Multiple layers of protective design keep contents secure:
Cut-proof panels made of tear-resistant fabrics safeguard against blade slashes. Critical outer areas and bottoms resist piercing.
Lockable zippers allow securing compartment access through integrated combination locks or small padlocks. This deters pickpockets.
Low-profile rear pouches position valuables hidden against the user's body. Straps also connect in the rear rather than sides for discreet access.
Anchor loops on bags allow securing them to fixed objects through tethers when temporarily placed down and not worn.
Inner RFID shielding in pockets blocks digital theft of payment cards and e-documents.
Together these elements provide all-around protection without a tactical appearance. Both contents and the user stay protected against theft and assaults.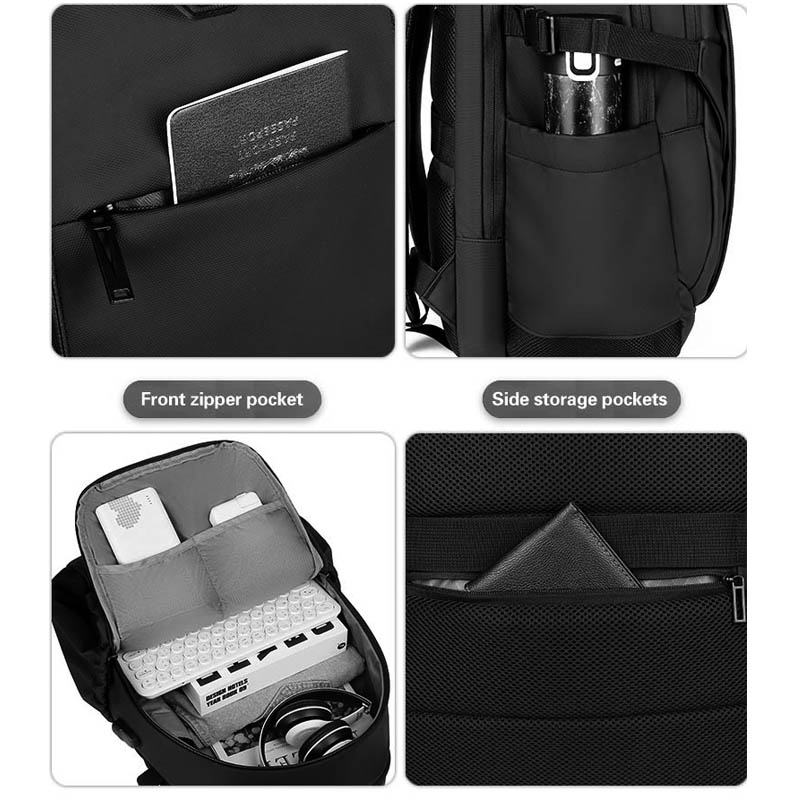 Integrated USB Charging
A standout feature is integrated USB ports linked to built-in lithium batteries that allow conveniently charging phones and other USB devices without AC power. Strategic locations on straps or zippers provide on-the-go access without removing the backpack. The mobile power banks make charging simple when traveling or navigating crowded spaces.
Purposeful Interior Organization
Inside Anti-theft laptop backpacks with USB charging port, purposeful compartments organize essentials while keeping them easily accessible:
Padded laptop sleeves securely hold devices during travel while absorbing bumps and shocks. Some open flat for TSA scans.
Interior pockets appropriate for phones, keys, wallets, passports, and other small valuables keep them organized and quick to locate in the compartments.
Side pockets sized for water bottles keep hydration handy without condensing onto electronics and documents.
Front pouches provide storage for items needed most frequently like pens, glasses, headphones or transit passes.
The thoughtful organization aids productivity and accessibility while also segregating clean and dirty items.
Weatherproof Durable Exteriors
Rugged weatherproof fabrics like water-resistant treated nylons protect contents from inclement conditions during lengthy daily commutes. Durable fabrics withstand downpours and minimize staining from spills. Reinforced bottom panels add abrasion resistance. Shoulder straps cushion heavy loads. The bags maintain structural and visual integrity through years of daily use and interaction with crowded environments.
Sleek Professional Styling
Despite their protective features and weatherproofing, anti-theft backpacks maintain professional aesthetics suitable for work and class. Clean styling focuses on practicality rather than tactical aggression. The security features fade discretely into the background through subdued colors and branding. Users avoid attracting undesirable attention while benefiting from covert safeguards securing belongings.
With multiple layers of intelligent protection alongside device charging capabilities, anti-theft laptop backpacks deliver new levels of cyber-secure convenience and utility for productivity on the move. Their progressive designs truly enable effective mobile computing.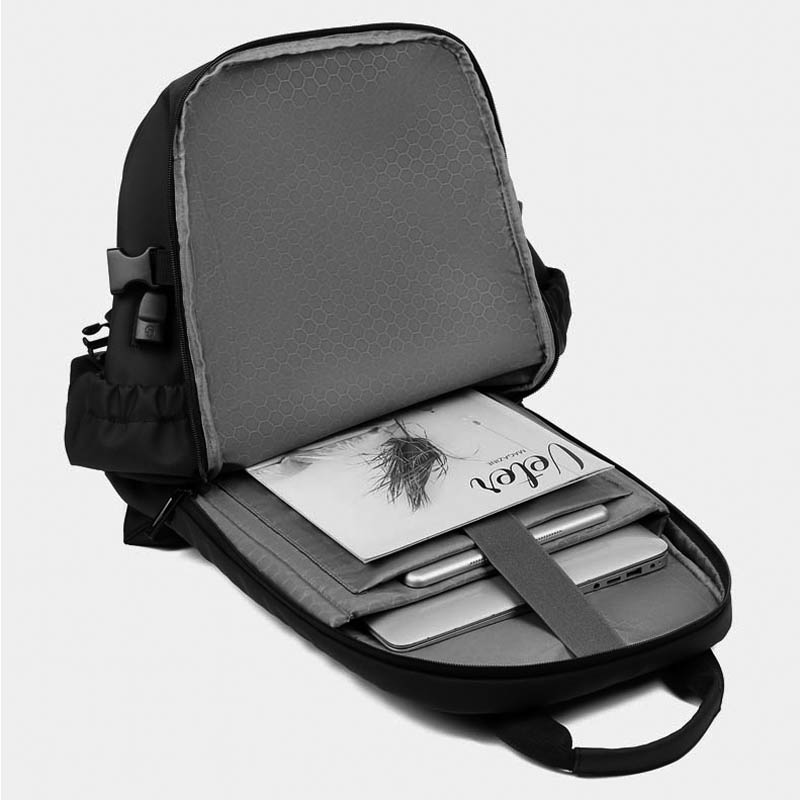 Applications
Anti-theft laptop backpacks with USB charging port offer invaluable capabilities for safely transporting electronics in three key use environments: daily commuting, colleges, and travel. We will explore how the backpacks provide utility in each context.
Daily Commuting and Mobile Work
For professionals commuting via congested public transit or bicycling on city streets, anti-theft backpacks allow carrying laptops, devices, and essentials while keeping them protected:
Cut-proof panels lined with tear-resistant fabrics prevent razor slashing of bags in crowded buses and trains where pickpockets roam. The durable material keeps contents secured.
On buses and subways, rear strap access and hidden rear pockets position valuables against the body rather than openly facing others where they can be quickly snatched.
Anchor loops allow discreetly tethering bags to chairs or poles for added security in coffee shops or coworking spaces when not worn on the back. The anchoring deters grab and dash thefts.
Checkpoint-friendly laptop sleeves let TSA officers smoothly scan laptops without removing them from bags, speeding airport security lines.
On bicycles, luminescent rear strips improve visibility and safety when riding day or night. Reflectors make commuters more visible to vehicles.
For long days out of office, built-in batteries with 2-3 charging ports keep phones and gadgets powered without AC access. The mobile power banks sustain productivity.
In these ways, anti-theft backpacks with integrated power delivery provide ideal daily carry solutions for mobile professionals traversing urban environments.
College and Campus Use
For students navigating bustling quads between classes all day, anti-theft backpacks allow safely carrying their laptops, tablets, phones, and school supplies:
Quick access exterior pouches keep student ID cards, transit passes, and dorm keys immediately available when walking across campus and commuting. Important items don't get buried.
Laptop and tablet sleeves cushion expensive electronics from drops and bumps during the hustle between classes in crowded hallways when accidental bumps occur.
RFID shielding integrated into shoulder strap lining or interior pockets blocks digital skimming of payment cards and student ID cards, protecting identities.
Lockable dual-pull zippers allow securing the main compartment and laptop sleeve through small padlocks for peace of mind in libraries, dining halls, and study spaces.
Anchor loops provide the ability to lock bags to chairs, benches, or tables using small cable locks when studying outdoors on campus green spaces. This prevents grab and go theft.
The streamlined styling blends into academic environments instead of attracting unwanted attention to the covert protective features shielding belongings.
Anti-theft backpacks enable students to focus on learning rather than worrying about device and identity theft on congested campuses.
Securing Belongings When Traveling
Frequent fliers know the difficulty of keeping possessions secure when navigating crowded airports and train platforms. Anti-theft bags provide enhanced protections:
Cut-proof panels lining vulnerable rear and bottom surfaces protect against slash and run theft attempts in dense tourist areas and transit stations with criminal activity.
Rear-mounted stash pockets oriented against the body conceal passports, wallet, cash, and phones from pickpockets while allowing wearer access. Valuables stay hidden.
Locking compartments prevent hotel cleaning staff or roommates from accessing laptops left in bags using integrated combination locks or padlocks.
Padded camera cube inserts allow safely checking camera gear like DSLRs and lenses while preventing expensive damage to equipment.
RFID blocking pockets prevent unauthorized NFC scanning and theft of digitized identities from e-passports, work/student IDs, transit cards, and credit cards.
On long bus, train, and plane rides, conveniently accessible integrated USB power banks keep phones and headphones charged for entertainment without hunting for outlets.
With anti-theft bags safeguarding belongings, global travelers can relax and enjoy their journeys without undue concern.
In summary, anti-theft laptop backpacks with USB charging port leverage smart protective designs alongside mobile charging capability to enable safe, powered transport of expensive essential electronics across diverse environments from daily commutes to far-flung travels. Their progressive features provide convenience alongside covert security.
Conclusión
In our increasingly interconnected world, professionals, students, and travelers carry much of their digital lives and work in backpacks transporting laptops, tablets, smartphones, cameras, and other electronics. But simultaneously, the risk of device theft and identity skimming rises each year, especially in crowded spaces prone to pickpocketing and slash-and-grab crimes.
Ordinary backpacks burden users with the constant worry about losing precious expensive electronics that enable productivity and capture memories. And finding convenient power for devices on the move remains an obstacle. This leads to compromised experiences – limiting where you go and what gear you carry.
Anti-theft laptop backpacks with USB charging port provide an elegant solution that allows full mobile freedom alongside near-constant connectivity and security. By blending multi-layered protective designs with onboard power banks, they enable safely carrying and charging the tech essentials that empower life and work everywhere while reducing stress.
Key anti-theft features like cut-proof panels, lockable zippers, low-profile pockets, and anchor points provide all-day security without advertising their protection. Clever power integration through USB ports connected to internal lithium packs keeps devices charged without AC outlet hunting. Thoughtful interior organization aids efficiency. And clean aesthetics maintain professionalism and discretion.
Together these capabilities create next-generation backpacks ready for emerging mobility and security realities we all now face in hyper-connected urban centers. With smart anti-theft solutions only growing more advanced, innovative carry products will continue trending towards seamless power, protection, and access enhancing how we interact with precious tech. This leaves commuters, students, and jetsetters free to focus on the experience rather than worrying about the safety of their gear.
So embrace the promise of exploring the world securely and powered up by equipping yourself with an advanced anti-theft backpack. Let clean-sheet designs optimized for the needs of today and tomorrow lighten your load. Carry on with confidence knowing smart protective solutions have your back.