The telescope handle's durability, weight, and overall performance are substantially influenced by the material used in its construction. The following list of materials is typical for telescope handles:
Aluminum: Aluminium handles are strong, lightweight, and rust-proof. They have a great strength-to-weight ratio and are therefore perfect for frequent travellers who need a compact setup.
Steel: Steel handles are renowned for their extraordinary toughness and longevity. Although they can significantly increase the weight of your trolley case, they are more appropriate for heavy-duty uses.
Composite Materials: Composite handles constructed of fibreglass or carbon fibre offer a reasonable compromise between strength and weight. They are strong enough to resist hard handling despite being lightweight.
Plastic: The handles of inexpensive trolley cases are frequently made of plastic. They might not be as durable as metal or composite handles, but they may still be adequate for casual or sporadic use.
The selection of a telescopic handle that provides comfort during travelling depends heavily on ergonomics. Think about the following elements:
Grip Design: Look for handles that have ergonomic grip patterns that fit your hand's natural shape. Contoured handles with cushioned or rubberized surfaces give users a safe and secure grasp, reducing fatigue from prolonged use.
Adjustable Handles: Some trolley cases include telescope handles that are movable, enabling you to alter the height to your liking. For those who are different heights or who like different handle placements, this feature is quite helpful.
Telescoping Handles: Telescoping handles give you flexibility and convenience by allowing you to extend or retract the handle as needed. To avoid wobbling or sticking, make sure the telescoping mechanism is reliable and functions smoothly.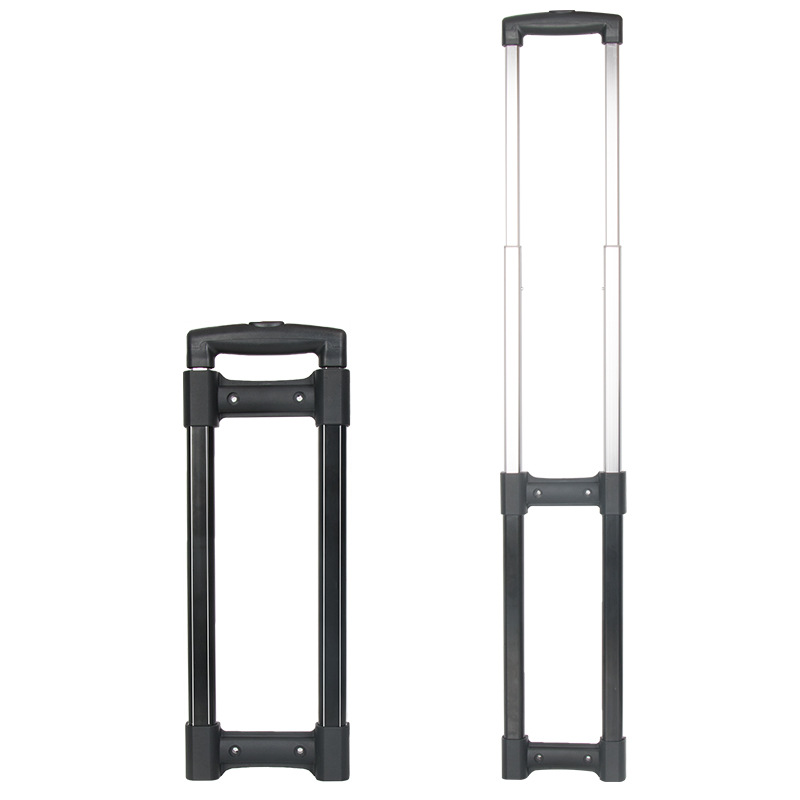 The stability, manoeuvrability, and usability of your trolley case are all impacted by the number of wheels it has. Think about the following choices:
a. Two-Wheel Design: Rolling bags is a frequent term for trolley cases with two wheels. They are simple to drag behind you yet challenging to balance. They work well on flat terrain and short distances.
b. Four-Wheel Spinner Design: Four spinner wheels on a trolley case provide for improved all-around manoeuvrability, making it the perfect choice for crowded areas and rough terrain. They are quite stable and need little effort to manoeuvre.
c. Hybrid Designs: Hybrid wheel arrangements, which combine two fixed wheels with two spinning wheels, are present on some trolley cases. With this design, you may move between pulling and pushing the case with stability and flexibility.
Additional Considerations:
a. Weight Capacity: Make sure the telescope handle you choose can sustain the weight of your telescope and additional equipment without sacrificing the integrity of its construction.
b. Locking Mechanism: To avoid unintentional collapses during transport, look for handles with a trustworthy locking mechanism.
c. Quality and Durability: Take into account the handle's general construction, including the joints, connection places, and overall durability. A handle with quality construction will last longer and work consistently.
Conclusione:
To ensure the secure and practical carriage of your equipment, choose the appropriate telescopic handle for your trolley case. Material, ergonomics, wheel design, weight capacity, and general durability should all be taken into account. You can select a choice that best meets your own needs and tastes by weighing these criteria. When choosing a handle, keep in mind that comfort, dependability, and convenience of use should come first because they will have a big impact on how you use your telescope in general.