Here are the tips for packing efficiently:
1. Start with a Plan: Make a list of your essentials before you go shopping. By doing this, you can make sure you have everything you need and prevent overpacking.
2. Choose the Right Bag: Your packing approach is shaped by the kind of bag you select. When traveling hands-free, backpacks are great, but rolling bags offer more organization.
3. Roll, Don't Fold: Clothes that are rolled rather than folded take up less room and creases. It's an easy-to-use method that works well.
4. Packing Cubes: To keep your possessions orderly, get packing cubes. They function as tiny compartments inside your suitcase, simplifying the process of finding things without causing chaos.
5. Pack Dual-Purpose Clothing: Choose apparel pieces that work well together to create a variety of looks. This lessens the amount of clothing you have to bring.
6. Vacuum Seal Bags: Vacuum seal bags eliminate extra air from large, bulky goods like jackets and sweaters, compressing the garments and optimizing storage space.
7. Essentials in Your Carry-On: Stow in your carry-on basics such as toiletries, a change of clothes, and medication. You will have the essentials with you in case your checked baggage is delayed.
8. Utilize Empty Spaces: Stuff little things like socks and accessories into your shoes. This makes the most use of available space and keeps the shape of your shoes.
9. Consider Compression Bags: Compression bags, like vacuum seal bags, lessen the volume of your clothing. These come in particularly useful on longer travels.
10. Mindful Toiletry Packing: To prevent spills, pack toiletries in travel-sized containers and think about solid substitutes for products like shampoo or conditioner.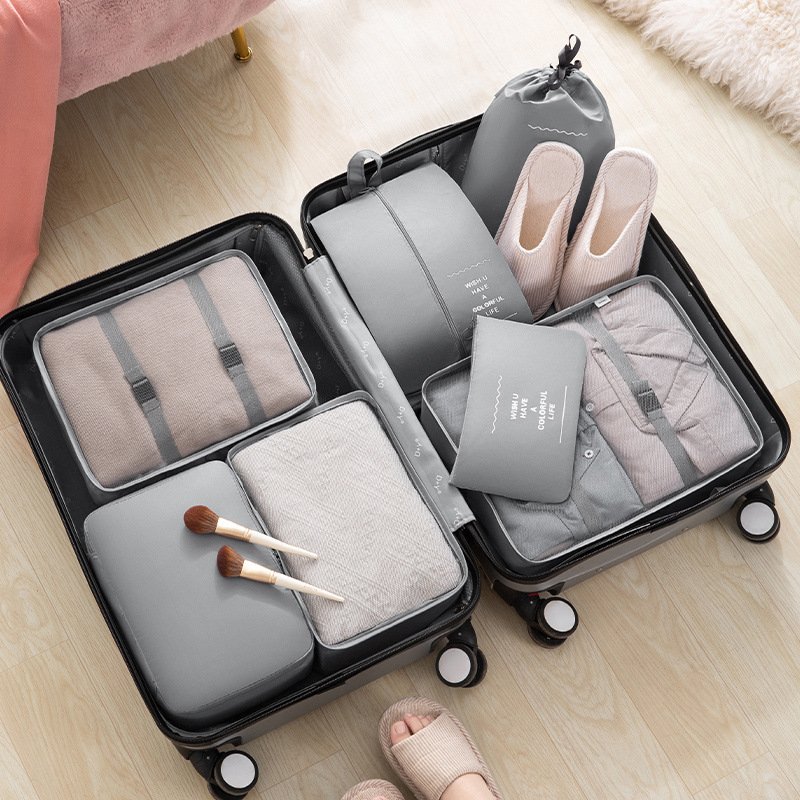 11. Digitalize Your Documents: Preserve space by digitally storing tickets and reservations, among other vital papers. For simple access, use programs like Dropbox or Google Drive.
12. Master the Art of Folding: Acquire proficient folding skills, such as the KonMari method, to maintain your clothing nice and tidy.
13. Pack Versatile Accessories: Jewelry and scarves are examples of accessories that can change an outfit. Stuff your closet with adaptable pieces that add flair without taking up a lot of room.
14. Research Baggage Policies: Baggage regulations differ throughout carriers. Learn the guidelines so that you can prevent additional fees and guarantee a seamless check-in experience.
15. Pack a Laundry Bag: Stow your soiled clothes in a collapsible laundry bag to keep them separate. Throughout your journey, this small addition keeps everything in order.
16. Layer Heavy Items: To equally distribute weight, pack bulky items like shoes or gadgets at the bottom of your luggage.
17. Emergency Snack Stash: Have a modest supply of non-perishable snacks on hand in case you get hungry and can't locate something to eat.
18. Test Your Bag's Zippers: Make sure the zippers on your backpack are working properly before you pack. This easy step saves frustration down the road.
19. Pack a Portable Charger: Carry a portable charger with you to ensure that your gadgets are always charged. This is especially important for lengthy bus or airplane trips.
20. Leave Room for Souvenirs: If you intend to shop for souvenirs, be sure your suitcase has enough room. This saves you from having to purchase an additional bag for your journey.
You'll be well on your way to mastering packing if you use these suggestions to your daily packing regimen. The secret to stress-free travels, regardless of trip frequency or experience level, is effective packing. Travel safely!