序章
For competitive athletes and everyday exercisers alike, having a sports bag that efficiently organizes gear is critical for practices, games, and workouts. But off-the-shelf one-size-fits-all models often fall short of perfectly meeting individuals' and teams' unique needs. This is where custom-designed sports duffle bags deliver immense value through tailor-made storage and features.
Custom duffle bags let you fully specify ideal dimensions, materials, compartments, interior pockets and exterior add-ons along with stylish looks based on your requirements. They lift limitations of generic bags to provide sports enthusiasts the perfect gear-hauling solutions for their activities.
This article will dive into the many advantages of customized sports duffles, and analyze the personalized needs different sports have for their bags. We believe that through clever custom bag design, you will gain high-value athletic equipment carriers that comprehensively enhance your active lifestyle experience. Read on to discover the unlimited possibilities custom opens up.
Custom Sports Duffle Bags – Built for Your Needs
For athletes and active people, choosing the right sports bag to meet their needs can make all the difference in convenience, organization, and comfort. Off-the-shelf models only go so far in delivering ideal features and customization. This is where custom sports duffle bags shine.
Built fully tailored to your specifications, custom duffle bags provide athletes and teams the perfect fit in features, size, materials, colors and durability. This article will explore the benefits of custom-made duffle bags for sports and exercising over ordinary generic bags.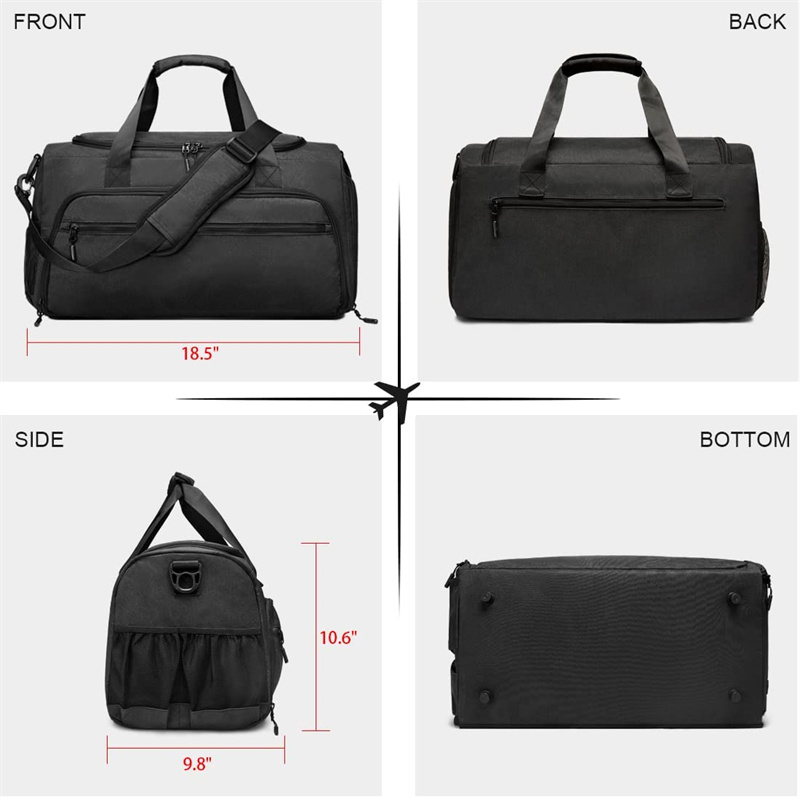 Freedom of Size Selection
With custom duffle bags, you can choose the exact bag dimensions you require rather than being limited to generic one-size-fits-all models. Specify total volume, proportions, shape and compartments based on the gear you need to transport. Extra large duffles easily fit hockey sticks, bats, golf clubs, and other bulky items without cramming. More compact yet roomy sizes suit focused exercise needs. Get the ideal bag volume for your sports, travel and activity – don't settle for too big or too small.
Space Optimized for Your Gear
Duffle bags built to your gear collection ensure everything has an intelligently designed place. Specify custom-sized pockets, sleeves, holders, and separators tailored to fit your exact equipment from shoes, helmets, and pads to balls, electronics, and towels. Keep dirty and clean gear partitioned. Bulky items won't strain seams. Smaller goods won't get lost. With a fully customized interior, all your items find their perfect spot. No more fishing around giant cavernous bags.
Material Durability for Your Lifestyle
Don't put expensive gear in flimsy disposable bags – choose ultra-durable fabrics that last. Select from sturdy canvas, reinforced nylons, weatherproof polyesters, real leather and more. Thicker material reduces tearing and scuffing whether you're traversing trails or airports. Reinforce high-wear areas like bottoms and handles. Add feet, rivets and bindings for super-robustness. Get the ideal blend of lightweight portability and heavyweight durability for your active pursuits. Customization allows no compromises.
Specialized Features You Require
Don't settle for mediocre stock features when you can request specialized add-ons that empower your active lifestyle. Add large rapid access end pockets for soccer balls, yoga mats, and more. Integrate phone sleeves with pass-through headphone openings for tunes on the go. Zippered side access wet pockets separate shoes, toiletries and wet gear. Molded bottom grommets allow drainage and airflow. With full customization, get innovative features that maximize functioning.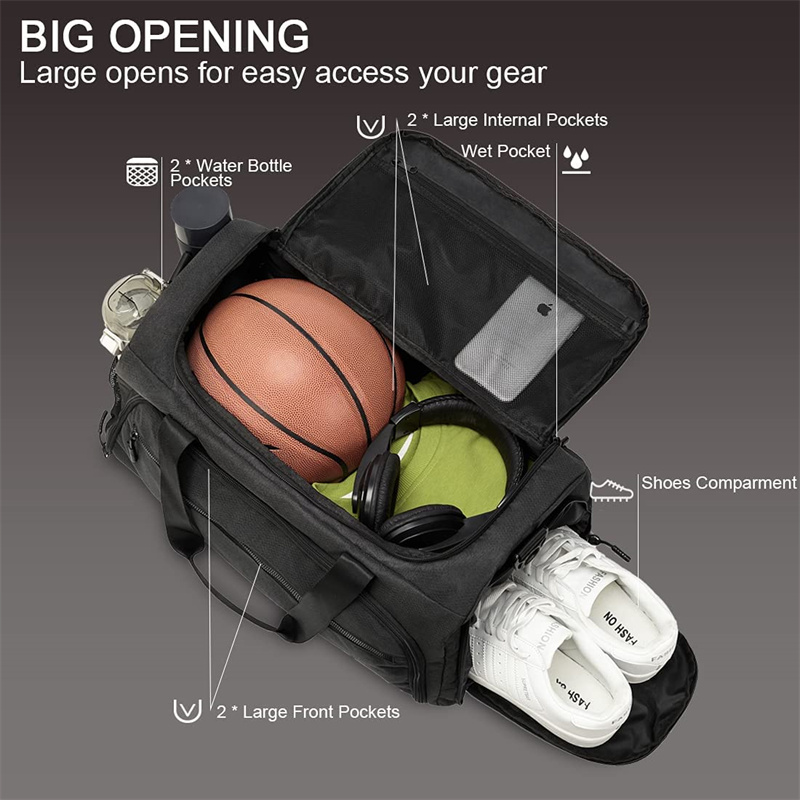 Stylish Looks Tailored For You
Don't settle for logo-covered bags with a boring homogenous look. Unleash your creative side with custom stylish looks you design. Choose sleek monograms, vibrant color combos, and athlete number personalization. Select accent materials like faux leather and suede. Pick complementary zippers, binding, and rivets for cohesive styling. Add free-form artistic elements for originality. Fully customized aesthetic options help your gear make a style statement that matches your identity.
Brand Exposure Opportunities
For coaches, teams, and clubs, custom duffle bags present excellent co-branding opportunities helping promote identity. Integrate logo designs, mascots, jersey colors, and other identifiers to tie bags to your group. This builds team/fan connection and reinforces brand recognition. Bags make great sponsored giveaways too. The right bag design announces your squad arrive in style. Take advantage of this mobile branding chance – custom duffle bags as moving billboards.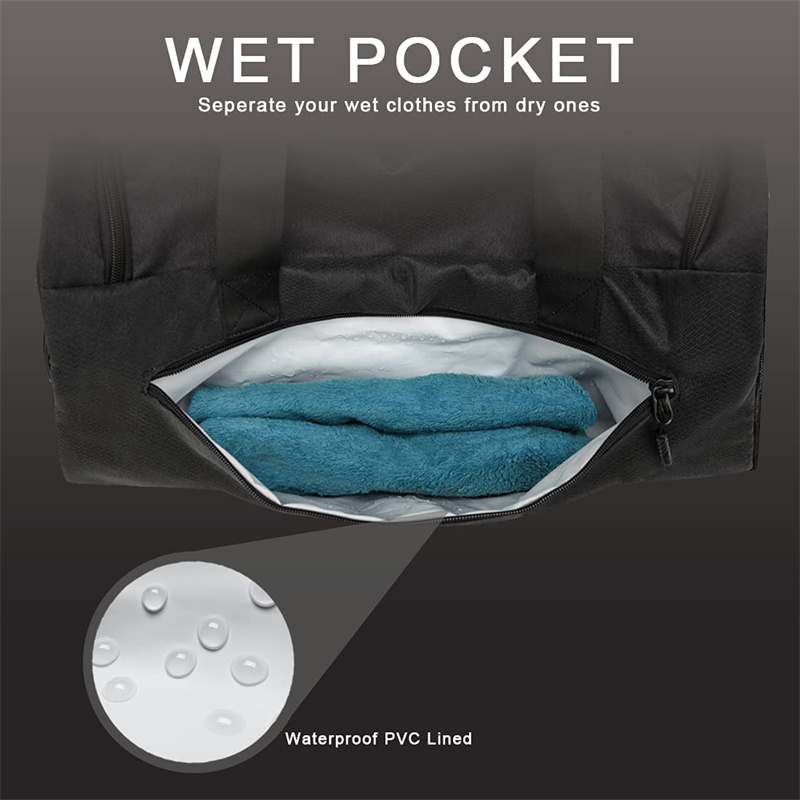 Responsible Local Production
Custom duffle bags production enables selecting vendors closer to home, reducing environmental impacts from overseas shipping and exploiting labor differences. Find manufacturers domestically committed to ethical production and fair wages. Support local makers and shorten supply chains through customization. And choose recycled and sustainably sourced materials for further eco-friendliness. Custom makes responsible sourcing easier.
Quick Turnaround Times
The beauty of local custom production is fast turnaround from concept to delivery. Don't wait months for overseas assembly and ocean freight. Streamlined design review and approval coupled with neighborhood manufacturing means you get your tailored gear bags rapidly. Be ready for upcoming seasons and events in no time. Forget long lead times – custom makes speedy bag procurement a reality.
Affordable Low Minimums
Contrary to popular belief, custom doesn't have to be expensive thanks to flexible low minimum order quantities. Order as few as 10-25 bags without excessive per-unit premiums. With typical overseas bulk imports, you're forced into 500+ units. Custom lets you buy right-sized batches ideal for small teams, studios, and clubs. Get totally personalized gear bags delivered fast without high investment.
Build Your Dream Duffles – By Sport
Now let's explore custom duffle bag possibilities across popular sports:
Hockey Bags
For hockey gear, extra roomy jumbo duffles with durable water-resistant nylon easily fit bulky pads, skates, and sticks without cramming. Interior dividers keep gear organized and protected. Exterior carry handles make hauling easy. Reversed openings allow easy access while skates are worn. Get ideal hockey haulers built for your team.
Basketball Bags
Basketball players need duffles fitting multiple balls, shoes, towels, uniforms and more. Wide mouth openings allow easy access. Wet/dry dividers keep sweaty gear separated. Breathable side compartments vent shoes/cleats. Integrated laundry bags simplify post-game cleanup. Padded tablet sleeves protect electronics. Bring all your court gear organized.
Soccer Bags
Lightweight yet spacious soccer bags crafted from tough polyester withstand constant use shuttling gear to practice and games. Their roomy interiors neatly fit balls, padded uniforms, cleats, shin guards and more. Exterior ball pockets provide handy access when playing. Side storage keeps drinks handy. Get duffles sized right for your soccer hauling needs.
Lacrosse Bags
The perfect lacrosse bag stands up to dirty and damp gear after practices and games. Durable coated canvas and reinforced stitching handle heavy pads and helmets. Separate vented sections keep gloves, shoes, and clothing organized and aired out. External lacing holds sticks securely. Find bags equipped for your lacrosse load.
Baseball Bags
For baseball and softball, choose duffles fitting multiple bats, batting helmets, fielding gloves, and shoes while keeping each item easily accessible. Interior bat sleeves protect swinging sticks. External pockets quickly access gloves, balls, and water bottles. Breathable shoe sections dry cleats. Keep all your diamond gear orderly yet handy.
Field Hockey Bags
The specialized needs of field hockey players call for tailored features. Long external stick sleeves securely hold sticks for transport. Padded interior pockets protect bulky protective gear. Water-resistant nylon handles wet conditions. Mesh shoe holders ventilate dirty cleats away from clean items. Get duffles optimized inside and out for your field hockey gear.
Golf Bags
Golf demands extras like exterior putter sleeves, insulated cooler sleeves for drinks, retractable hanger hooks, and structured reinforced bottoms for upright standing. Interior club dividers organize clubs, while external pockets provide quick access to balls, tees, towels and rangefinders when playing. Carry your clubs in custom comfort.
Tennis Bags
For tennis, choose lightweight polyester duffles that easily transport rackets, balls, grips, towels, and athletic apparel. Interior elastic mesh pockets keep loose items contained. External pockets hold drinks and smartphone armbands. Shoulder strap designs distribute weight. Exterior lacing ties down extra gear. Design tennis bags for your gear and court needs.
Yoga & Exercise Bags
For yoga, Pilates, and general exercise, compact duffles provide ample room for mats, blocks, straps, and stretching accessories. Dedicated mat sleeves protect, carry, and segregate mats. Small interior pockets organize keys, phones, and wallets. Insulated side pouches keep healthy drinks cool. Exterior handles ease carrying. Create the perfect studio gear bag.
Ultimate Gym Duffles
For devoted gym goers, customize a spacious duffle to neatly carry shoes, exercise apparel, gloves, wraps, locks, towels, toiletries, electronics, and beverages. Pockets of all sizes keeps every item in its place. Wet/dry separation prevents cross-contamination. Breathable sections prevent odors. Carry the entire gym neatly organized.
Simple Run Commuter Bags
For urban runners commuting to the office, compact yet functional duffles easily carry essentials like extra shoes, clothing, personal items, laptops, and other work necessities. A backpack strap option aids mobility. External pockets provide fast access for phones, keys, and transit cards. Built your ideal lightweight urban exercise duffle.
The Next Step: Design Your Ideal Sports Duffles
Don't compromise with generic sports bags – get equipment haulers designed your way. With customized sizing, compartments, features, materials and styling, enjoy sports duffle bags purpose-built around your exacting needs. Contact us today to spec-out your ideal bags – our experts make the entire hassle-free process easy, fast and affordable. Bring your sports bag dreams to life through the power of customization.