Introdução
For professionals, students, travelers, and anyone else journeying through the urban jungle, anti theft USB charging backpacks are total solutions that perfectly answer modern needs for utility, security, style and power. Through cutting-edge designs that embed device charging capability within cut-proof exteriors and clever interior organization, they deliver exactly what today's mobile citizens require while in transit or out exploring.
Hassle-free power banks integrated into shoulder straps and compartments allow charging on the go so devices always stay juiced. Lockable zippers, slash-proof panels, anchor points, and rear-accessible straps expertly safeguard belongings from pickpocketing, theft, and cutting. Without shouting "tactical", the backpacks maintain low-key urban styling fitting work and school environments.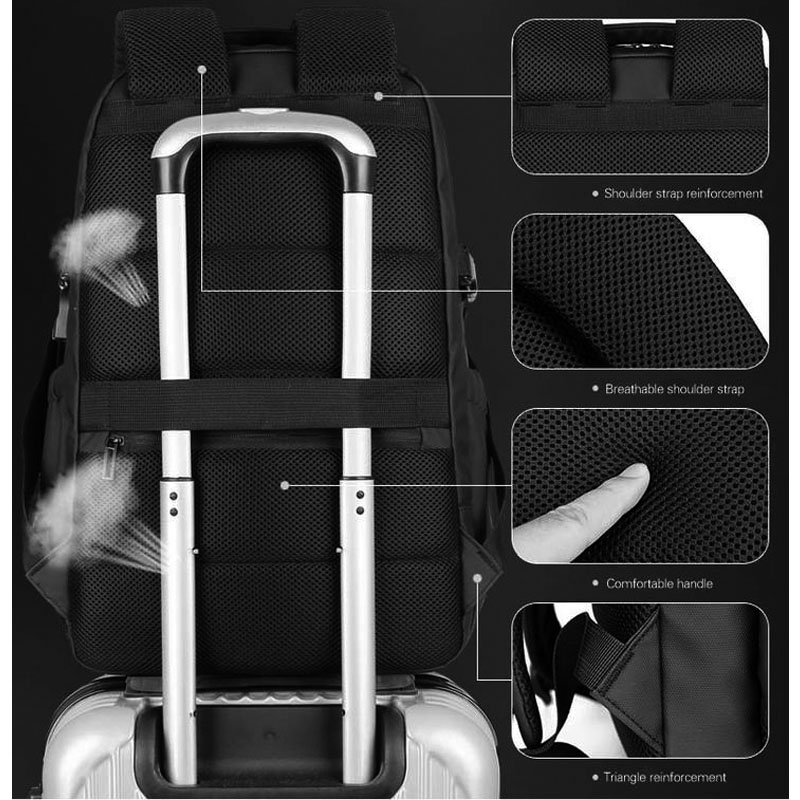 Within their secure shells, intelligent pockets and dividers optimize storage for daily essentials like laptops, cameras, glasses, and phones while keeping items neatly ordered. By merging connectivity, organization, weatherproofing, and multi-threat protection, they provide owners reliable versatility within a comfortable portable form.
So stay empowered and protected wherever the day leads with the promise of advanced anti-theft USB backpacks. With smart features built in, savor the journey knowing your gear and valuables remain secure while devices stay charged for full productivity. The future of urban backpacks is here.
Características
Integrated USB Charging Capability
The most exciting innovation anti-theft backpacks offer is integrated USB ports that allow conveniently charging phones, tablets, and other USB-powered electronics while on the move. Strategically built into the exterior or interior fabric, the ports connect to built-in power banks. This eliminates fussing with charger cords and wall outlets.
Smart positioning of the ports within shoulder strap padding or on zipper pulls makes accessing power simple without removing the pack. Water-resistant ports withstand the elements. Automatic on/off preserves battery when not connected. It's an ultra-convenient feature unique to cutting-edge anti-theft backpacks.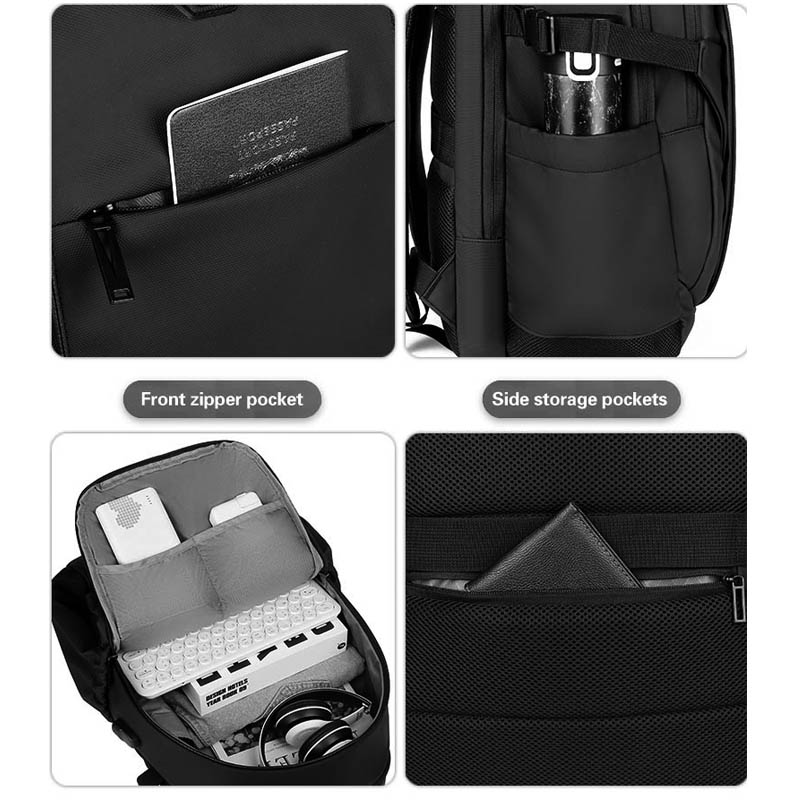 Superior Multilayer Anti-Theft Security
True to their name, anti theft USB charging backpacks incorporate several design elements that provide peace of mind in crowded environments by protecting against pickpockets, slashing, and theft. This allows safely carrying valuables without worry on the daily commute or when traveling abroad.
Key features include cut-proof fabric panels using strong slash-resistant fabrics, steel wire mesh inlays to prevent razor slashing, lockable zippers, rear-access shoulder straps, and rear-mounted pockets. Foiled RFID blocking lining also prevents digital skimming of e-passports and credit cards.
Together, these anti-theft protections create multiple barriers deterring and preventing theft of both physical and digital goods in backpacks.
Clever Internal Organization
Within their secure shells, anti-theft backpacks leverage smart organization for efficient storage and access. Padded laptop sleeves safely carry electronics. Lockable compartment walls separate valuables like wallets, jewelry, and keys. Multiple divider pockets organize pens, cards, and loose items by type. Mesh water bottle holders stretch to size.
For photographers, some packs include dedicated camera cube inserts that convert the pack into a protected gear carrier. Individualized pockets and dividers keep all items neatly sorted and easily found versus jumbled at the bottom. The smart organization aids productivity.
Durable Weatherproof Materials
To withstand heavy daily usage and the elements, anti theft USB charging backpacks employ rugged water resistant fabrics. Durable ballistic nylon or polyester with PVC backing resists tearing, abrasions, and moisture from rain or spills.
Reinforced bases provide structure and protect against wear. Padding on shoulder straps and backs cushion loads. Metal hardware like buckles and zippers refuses corrosion. Top brands optimize material selection for urban and travel resilience.
Professional Modern Styling
Beyond functional features, anti-theft backpacks infuse appeal through modern aesthetics with clean lines, striking accents, and considered color palettes. While securing belongings against theft, they maintain a refined upscale look fitting work, school, and other environments.
Practical magnetic sternum straps double as elegant metallic ornamentation. Thoughtful design choices distinguish anti-theft bags from generic crowded backpack styles that lack intention. The right styling balances attractive visibility with low-key security.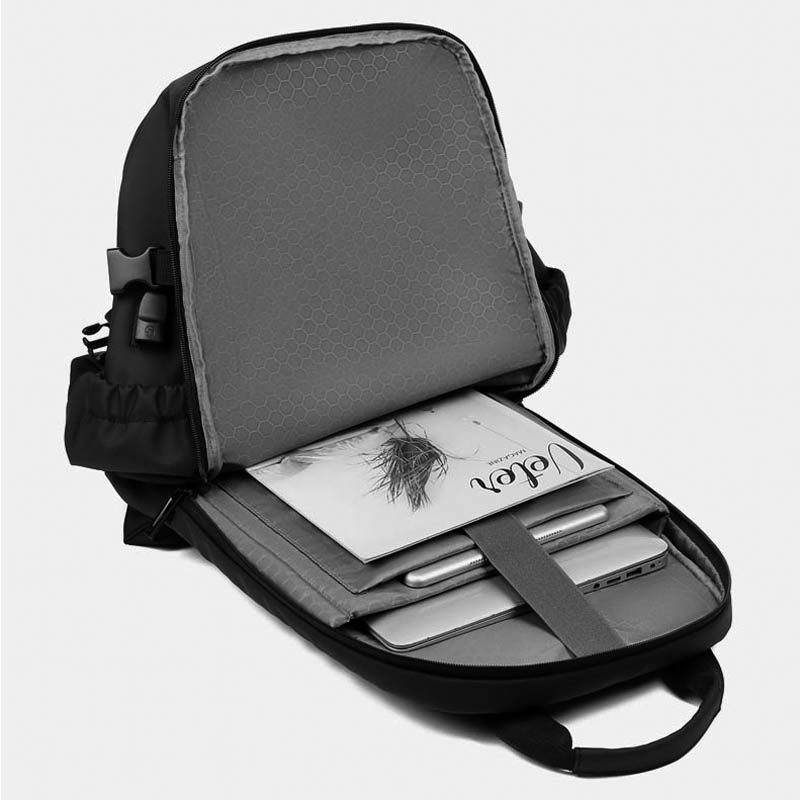 Models Optimized for Common Needs
Top designers offer anti-theft backpack models tailored for common usage needs:
Work & Career – Sleek professional-looking packs with laptop/tablet storage and quick-access pockets for productivity.
College & Campus – Roomy mid-size packs to carry books, gadgets, and essentials across campus and beyond.
Daily Commute – Compact lightweight yet secure packs for public transit and biking around cities.
Travel & Adventure – Maximum storage and anti-theft features for trips abroad and exploring outdoors.
Photography – Camera-ready packs with dedicated cubed storage and lens compartments.
Evaluating Quality
With many anti-theft backpack brands now available, it helps to know what to look for when selecting a pack:
Material Quality – Durable ripstop nylon or polyester stands up to daily use and moisture. Avoid cheap thin fabrics.
Weatherproofing – Water-resistant coatings protect contents from rain and spills. Look for waterproof zippers.
Cut Proofing – Strong slash-guard mesh or fabric panels prevent razor slashing of bags.
Lockable Zippers – Zipper pulls that can accept small locks prevent pickpocket entry into compartments.
Charging Power – Built-in 5,000+ mAh batteries allow mobile device charging on the go. Look for 2+ ports.
Pockets & Organization – Multiple compartments keep items neatly organized and easy to find.
Straps & Security – Locking rear access straps prevent cut-and-run theft. Anchor loops allow securing.
Style – Professional aesthetics suitable for work and school environments. Avoid overly tactical looks.
Brand Reputation – Established bag makers are more likely to deliver durable quality and security.
Key Anti-Theft & Security Features
We'll now do a deeper dive into the various integrated security innovations and anti-theft design elements that set these intelligent backpacks apart:
Cut-Proof Panels Protecting against slashes is critical in crowded spaces prone to bag cutting and theft. Strategically placed cut-proof panels made of tear-resistant fabrics like ballistic nylon shield vulnerable areas. Some brands integrate stainless steel mesh layers into panels for even greater cut resistance. The hinders slicing bag bodies open with knives to steal contents.
Lockable Zippers Lockable zipper pulls allow securing compartment access through locking S-hooks, small padlocks, or combination pulls. This prevents pickpocket entry into pockets and laptop/tablet sleeves. Locking capability is built into main zippers or isolated compartments carrying valuables. They add keyless security.
Anchor Points
External anchor points allow securing backpacks to fixed objects through tethers so thieves cannot grab and dash with the entire pack. Looped pull tabs or steel grommets provide attachment points for small deterrent locks to anchor packs in crowded areas when setting them down temporarily.
Rear Access Design
anti theft USB charging backpacks feature shoulder strap access on the wearer's backside and pockets opening towards the wearer's back, not facing outward. This protects zippers and compartments from slash and dash grab thefts in dense crowds. Pickpockets cannot easily reach or view contents.
RFID Blocking Material RFID blocking lined pockets prevent digital theft by shielding RFID chips in credit cards, e-passports, and ID cards from wireless skimming. The protective material blocks transmission of chip data to unauthorized nearby receivers. This keeps identity and payment card digitals safe.
The collective impact of these integrated protective technologies is full-spectrum anti-theft defense safeguarding backpack contents from both physical and digital threats wherever crowds exist. Together they allow confident carrying in risky environments.
Smart Interior Storage Designs
Assuming a backpack provides reliable theft protection, maximizing the usable secure storage via intelligent compartmental designs is the next priority:
Laptop & Tablet Sleeves Dedicated padded sleeves to safely carry laptops, tablets, and e-readers while protecting them from bumps and spills. They make organizing and accessing electronics quick. Some feature rear access only for added security.
Secure Inner Pockets Zippered pockets on inner compartment walls keep valuables like keys, jewelry, glasses, and wallets protected. Some pockets include RFID blocking to safeguard digital goods. Inner pockets allow access without exposing the entire bag.
Multiple Dividers
Movable interior dividers allow customizable compartment sections to fit odd item sizes and organize by type. They keep clothes, books, pens, battery packs, and other loose items neatly separated and easy to find when needed.
Outer Stash Pockets Outer pockets with discreet hidden zippers provide convenient access to frequently needed items like phones, transit passes, and headphones without opening the whole bag. They maintain invisibility to deter thieves.
With smart compartmentalization optimized for urban uses, anti-theft backpacks feel like portable personalized storage lockers rather than gaping caves. Intelligent designs maximize usable space for the urban commuter's mobile lifestyle.
Invest In Lasting Anti-Theft Protection
In crowded spaces filled with valuable gear, anti-theft backpacks deliver reliable on-the-go security to safeguard belongings, devices, and data. By harnessing innovations in materials, power, and intelligent design, they protect against the hazards of daily urban life. Choosing quality anti-theft USB charging models means one less thing to worry about while out and about. So invest wisely and carry your tech and essentials with confidence from day to day. With anti-theft backpacks, peace of mind is always within reach.
Summary
This guide examines anti theft USB charging backpacks that provide integrated power banks, protective layers, and smart organization to securely transport devices, valuables, and daily essentials. Key features covered include lockable slash-proof panels, rear strap access, weatherproof durable fabrics, professional styling, laptop sleeves, interior pockets, and embedded USB charging ports. Leading backpack brands like XD Design, PacSafe, Travelon, KOPACK, and Tzowla are compared. For professionals, students, commuters, and travelers alike, anti-theft USB backpacks deliver reliable on-the-go safety, power, and utility.