Введение
In today's world, electronic devices have become deeply integrated into our daily work and lives. Laptops, tablets, smartphones and more allow handling tasks, accessing information, and connecting with others anytime, anywhere. However, increasingly congested cities and public transit also raise risks of theft and robbery when carrying these expensive electronics daily. Pickpockets and muggers lurk everywhere, with public spaces prime hunting grounds for scam artists to steal belongings and identity data.
To aid users in securely transporting electronic gear, anti-theft backpacks have emerged. These bags utilize unique protective designs like cut-proof fabrics, lockable compartments, and more to safeguard devices. At the same time, they integrate power banks to conveniently charge phones and gadgets on-the-go.
Anti-theft laptop backpack with USB charging port perfectly blends utility and security advantages. Multi-layered anti-theft features allow safely carrying laptops, cameras, and other big-ticket items with confidence. Thoughtful interior organization keeps contents tidy. Potent charging capability ensures mobile devices stay perpetually powered up.
This guide will delve into key innovative technologies of anti-theft backpacks, and how they empower users to confidently face the many challenges of navigating congested urban environments. Let's explore how these newfangled bags truly unlock mobile productivity and enjoyment for today's connected lifestyles.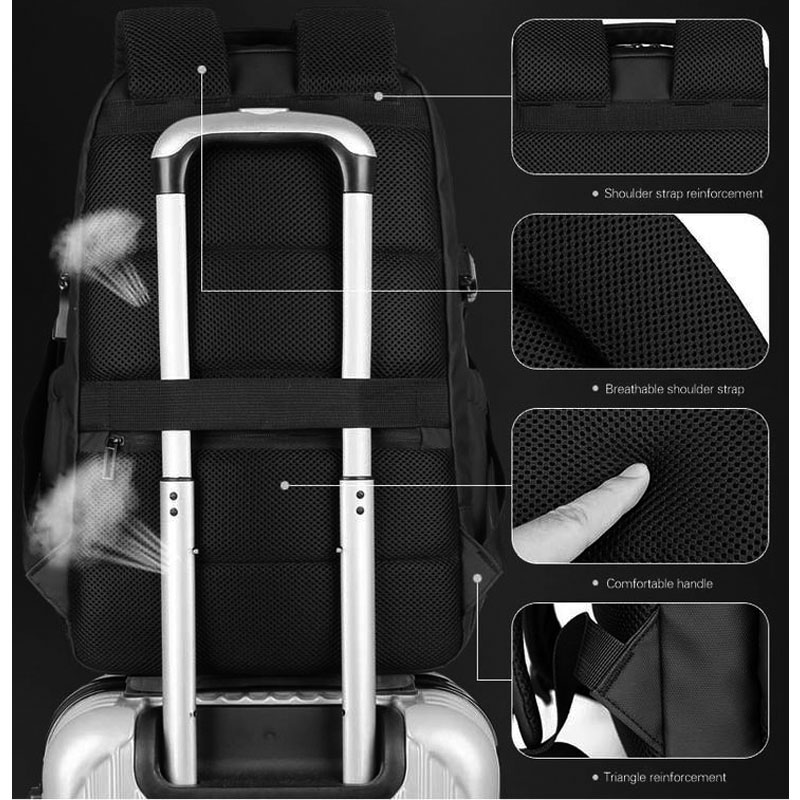 Specification
| | |
| --- | --- |
| МАТЕРИАЛ: | ПУ |
| РАЗМЕРЫ: | Обычный размер |
| Минимальный заказ: | 500 штук |
| Время выборки: | 7-10 дней |
| Номер модели: | FL302 |
Key material innovations
Ultra lightweight yet highly ripstop nylon fabrics use strong woven reinforcement that adds tremendous tear resistance with minimal additional weight over standard nylon. This creates bags that stay protective for years without burdening users.
Durable water repellent (DWR) coatings applied to exterior nylons cause moisture to bead up and roll off without absorbing into the material. By preventing saturation from rain and liquid spills, DWR coatings keep contents dry and help maintain the clean aesthetic.
High-density closed-cell foam used in shoulder straps, backs and internal padding provides excellent shock absorption and cushioning for electronics and heavy books while avoiding moisture retention issues of open-cell foams. Closed-cell foams won't collect sweat.
Invisible carbon fiber sheet linings along cut-prone bottom panels add very high cut resistance while minimizing added weight. The carbon fiber shields against sharp blades better than steel at a fraction of the weight.
Through engineering fabrics and materials for the ideal pairings of strength, protection, water resistance and lightweight portability, anti-theft bags achieve versatile functionality under the environmental pressures of life on the move.
Enhanced Wearable Ergonomics
In addition to protective designs, premium anti-theft laptop backpack with USB charging port focuses heavily on wearable ergonomics that make hauling heavy loads more comfortable and minimize fatigue. Key advancements include:
Multi-density foam shoulder straps with firmer outer zones and softer inner padding that adapts to the shoulders. This eliminates pressure points for long wear and increases support. Breathable air mesh lining also reduces sweat buildup during long hot commutes.
Suspension systems built into the backs that incorporate flexible polymer frames allowing the packs to contour to the wearer's body for excellent weight distribution and ventilation. The suspension prevents bulky rear protuberances.
Sternum straps with adjustable pivoting actions that transfer pack weight to the hips for added lower body support. The pivoting allows natural torso flexing. Under-strap whistles can quickly summon help if needed.
Removable waist belts capable of supporting and stabilizing heavy loads on the hips to relieve shoulders. The waist belts ride naturally during walking and sitting without restriction.
Through decades of ergonomic research and refinement, anti-theft backpack makers ensure carrying valuables, electronics and work items stays comfortable and painless all day while keeping cargo secured.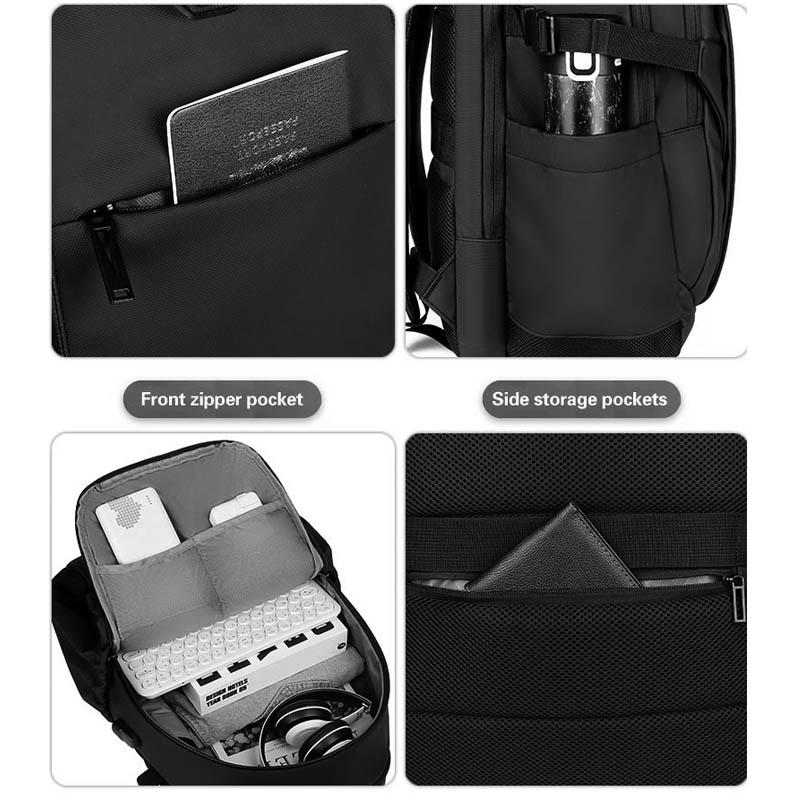 Professional Subtle Branding
Rather than flashy loud designs that attract undue attention, anti-theft laptop backpack with USB charging port aims for minimalist refined aesthetics with discreet branding that allows them to blend in across work, school and professional settings:
Tonal logos and insignia keep branding low-key and avoid brightly colored graphics. A smart delicate touch replaces overt flair.
Colorways utilize muted neutral and dark tones like grays, blacks and navies that appear polished rather than loud neon palettes used in extreme sports.
Omission of unneeded exterior MOLLE webbing and other tactical add-ons maintains a clean streamlined style suitable for boardrooms and class halls alike.
Through restrained elements, refined finishes and multiple color options, anti-theft backpacks maintain a covert professional appearance allowing pack security features and technology to subtly recede into the background no matter the environment.
Key Applications
Daily Commuting
For professionals commuting to work via congested subways, buses, and city streets, anti-theft backpacks provide essential capabilities:
Tough cut-proof panels lining vulnerable rear and bottom surfaces protect against razor slash attempts in dense crowds where pickpocketing is common. Valuable contents stay secured.
On cramped commuter trains and buses where personal space is limited, rear stash pockets oriented against the body securely conceal wallets, passports, and phones fromGrab-and-go theft attempts.
During coffee shop work stops, discreet anchor loops allow subtly tethering backpack straps to chairs and tables. This deters thieves from swiping bags left temporarily unattended.
For bicyclists navigating busy urban streets, bright rear-facing safety strips improve visibility to avoid accidents with vehicles. Side attachment points secure flashing safety lights.
After long days away from the office, built-in lithium powerbanks with 2-3 charging ports keep phones and tablets powered without hunting for scarce electrical outlets.
Collegiate Use
Students traversing large bustling campuses all day long greatly benefit from anti-theft designs:
Quick access exterior pockets allow effortlessly producing student ID and transit cards when entering buildings and buses, avoiding routines of repeatedly unpacking and repacking items.
While rushing through throngs of students during cramped class changes, padded laptop sleeves protect expensive devices from drops and impacts in crowded hallways when accidental bumps occur.
To deter textbook thieves in large unlocked lecture halls, lockable dual-pull zippers allow securing pack main compartments and laptop sleeves through small padlocks for added security.
Inner RFID blocking linings provide identity protection by preventing nearby digital skimming of contactless payment cards and school ID cards when studying in packed libraries and common areas.
Traveling with Valuables
Frequent travelers face heightened security risks in crowded airports, train platforms and tourist hubs. Anti-theft laptop backpack with USB charging port provides enhanced protections:
Rear stash pockets oriented against the body discreetly conceal passports, cash, phones and other valuables from pickpockets while still allowing wearer access when needed.
In cramped trains and buses, cut-proof panels lining vulnerable surfaces deter slash-and-run attempts to steal cameras, jewelry and other goods from bags placed on overhead racks or under seats.
At hotels, locker-like lockable compartments prevent housekeeping staff from accessing laptops and electronics when left secured in bags rather than a room safe.
On tours and excursions, exterior hidden anchor points allow subtly tethering bags to fixtures to foil grab-and-dash thieves when inspecting vendors and displays up close.
Across daily, academic, and travel contexts, purposeful anti-theft backpack designs deliver enhanced safeguards and convenience features for securely transporting valuables, empowering mobility.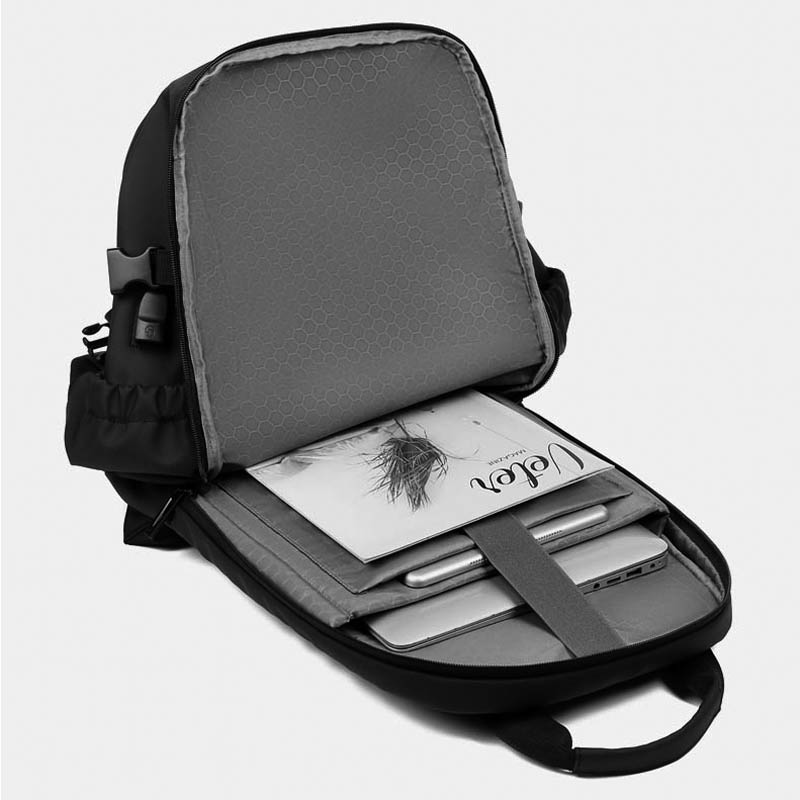 Summary
As we have explored, Anti-theft laptop backpack with USB charging port addresses fundamental challenges of safely carrying and powering the expensive essential electronics that drive life, work, and learning for many in today's world. By blending multi-layered protective designs, mobile power delivery, and thoughtful organization, they allow students, professionals, travelers and anyone else transporting tech devices to navigate crowded spaces with reliable security and perpetual connectivity.
Through innovations like cut-proof slash guards made of tear-resistant high-density nylons and embedded foil laminates, vulnerable rear and bottom surfaces stay shielded from razor blade threats. Exterior fabric advancements also provide weatherproofing and water resistance for long commutes in the elements. Secure lockable compartments foil pickpockets and provide hotel-safe level security in shared rooms when away from home. Low-profile concealed pockets and rear-facing access points keep valuables hidden against the user's body rather than openly facing crowds and strangers in tight spaces.
Just as vital, integrated USB charging ports linked to high-capacity internal lithium power banks eliminate hassles of finding outlets and tangled cords to keep phones, tablets, headphones and other USB-charged devices perpetually powered up. For students rushing between classes, professionals moving through subways, and travelers globetrotting afar, the mobile power supply ensures productivity and connections are never compromised.
Within the secure exterior shells, interior pockets and compartments keep laptops, e-readers, daily essentials and travel necessities neatly organized rather than jumbled together in a heap. Division enables quick access and prevents soiling clean clothes with dirty shoes or spilled toiletries. The bags enhance efficiency on the move.
And perhaps most importantly, anti-theft backpacks deliver their immense utility and security enhancements through professional subtle aesthetics suitable for work, school, and business environments. Their designs prioritize clean refined styling rather than loud tactical embellishments. The bags empower safety without unwanted attention, allowing users to blend in rather than stand out.
Looking ahead, continued innovations in smart materials, charging systems, storage enhancements, and intuitive designs will only expand the capabilities of anti-theft backpacks. Further integration with mobile apps, biometrics, sensors and environmental context awareness will provide ever more seamless and automated protections. As our electronic devices become increasingly vital daily partners, purpose-designed carry products will evolve in parallel to keep those devices secure, powered-up and accessible without compromise.
In a future driven by perpetual mobility, ubiquity of smart technology, and massive valuable personal data existing in the cloud, anti-theft bags will only grow more helpful in allowing that technology to enhance rather than limit life's potential. With smart protective carry solutions by their side, professionals, citizens, and youths will explore the world with confidence, protected connections, and the peace of mind to focus on the journey ahead.